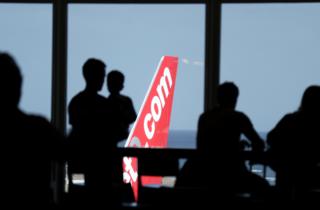 Jet2 planes heading to Spain have been turned around in mid-air as the airline cancelled all flights to the mainland, Balearic Islands and the Canary Islands because of coronavirus.
Confirmed cases in Spain have risen by 1,500 in 24 hours and thousands of people have been placed in lockdown.
The country's death toll has reached 120 and it is set to enter a two-week state of emergency.
Jet2 said the health and safety of its customers was its top priority.
The airline flies to destinations including Alicante, Malaga and Lanzarote from nine UK airports.
It said it decided to cancel flights after Spanish authorities ordered bars, restaurants, shops and activities to close.
"We know these local measures will have a significant impact on our customers' holidays, which is why we have taken this decision," an airline spokesperson added.
"This is a fast-moving and complex situation and we are reviewing our programme as a matter of urgency, so that we can fly customers back to the UK."
Flight tracking information shows at least five Jet2 planes travelling to Spain turned around to return to the UK.
Dale Dixon, 26, from Pontefract, West Yorkshire, was due to fly from Alicante to East Midlands Airport at 11:45 GMT.
He said there was a feeling of "deflation" at the airport, saying: "It is overcrowded here. There are children just lying around bored and bags scattered all over the place. People are definitely panicking."
Holidaymaker Mark Harrison, whose flight home to Manchester was scheduled for this evening, said: "Jet2 said not to contact them so we are just waiting to hear from them. All we've seen is that which is on social media."
'Looking at suitcases'
Christine Jones from Rochdale, Greater Manchester, was expecting to fly out on a Jet2 plane to Tenerife with her husband at 14:20 GMT.
She said: "The last message we received last night from the company said they were looking forward to seeing us. We are fully ready and packed and are surrounded by our suitcases but we aren't going anywhere now. I'm just sat here looking at suitcases."
Clive Sloman, 55, from Chelmsford, Essex, is at Tenerife Airport waiting for his flight to London Stansted.
He praised Jet2's "helpful" staff, but said he does not know when his flight, which was scheduled to depart at 14:30 GMT, will leave.
"We've just been turned away from security because we can't go through security without a flight to go on, but there are no flights yet," Mr Sloman said.
Easyjet said flights between the UK and Spain were currently "unaffected" – but that there was some disruption to those flights because of a shortage of air traffic controllers in Spain.
On Friday, British Airways warned it would need to ground flights "like never before" and lay off staff in response to the coronavirus. Ryanair told staff they might be forced to take leave from Monday.
Travel company Tui has cancelled all holidays in Spain which were due to start between 14 and 16 March.
UK Prime Minister Boris Johnson has been meeting officials at Downing Street to discuss the pandemic.
Ten more people in the UK have died after testing positive for the coronavirus, bringing the total number of deaths to 21.
The total number of confirmed cases in the UK has reached 1,140.
But the government's estimate of the true number of cases was around 5,000 to 10,000, as of Friday.